ENST-Drums: an extensive audio-visual database for drum signals processing

By O. Gillet, G. Richard
The ENST-Drums database is a large and varied research database for automatic drum transcription and processing:
Three professional drummers specialized in different music genres were recorded.
Total duration of audio material recorded per drummer is around 75 minutes.
Each drummer played his own drum kit.
Each sequence used either sticks, rods, brushes or mallets to increase the diversity of drum sounds.
The drum kits themselves are varied, ranging from a small, portable, kit with two toms and 2 cymbals, suitable for jazz and latin music ; to a larger rock drum set with 4 toms and 5 cymbals.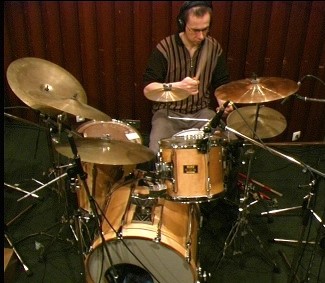 Each sequence is recorded on 8 individual audio channels, is filmed from two angles, and is fully annotated.
Detailed web site: http://perso.telecom-paristech.fr/~grichard/ENST-drums/
Licence : User licence (in English) or alternatively in French
Downloading : Download ENST-Drums (I HAVE READ AND ACCEPTED THE TERMS OF THE USER LICENCE)
Reference:
ENST-Drums: an extensive audio-visual database for drum signals processing, Olivier Gillet and Gaël Richard, In Proc of ISMIR'06, Victoria, Canada, 2006.